Hiking formula, 7 days with a donkey in the Cévennes/Mont Lozère
Example of family tour. Do not hesitate to contact us for some other tours (family or experienced walkers).
7 DAY PACKAGE
7 day hike in the Cévennes/Mont Lozère (for family)
Guesthouse Formula possible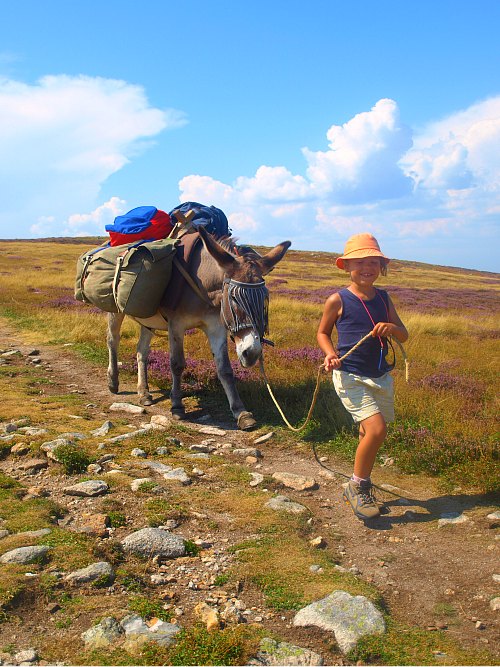 The itinerary may be subject to modification in relation to accommodation availability.
Castagnols ---- Le Rey (11 km):
A beautiful walk along the peaks and ridges with a panoramic view over Vallée Longue, Luech Valley and Mont Lozère. The Coudoulous trail: Chateau de Verfeuil. View***.
- Le Rey: B&Bs and yurt. Table d'hôte.
Le Rey ---- Le Lauzas (8 km):
Hamlets, forest, river, ford over the Dourdon to reach the valley bottom and Le Mas du Lauzas, nestling next to a river.
- Le Lauzas: guesthouse and B&Bs. Table d'hôte. Bathing spot in the river.
Le Lauzas ---- Vimbouches (14 km) or le Temple (12 km):
Hills and ridges, gorges and valleys, inhabited hamlets and signs of times gone by, magnificent viewing points.
- Vimbouches : accueil à la ferme en gîte. Table d'hôte.
- Le Temple: guesthouse and meals.
Vimbouches or Le Temple ---- Le Merlet (13 km or 15 km):
Walk in Vallée Longue and on a nice path among ridges, cross the watershed line. Walk on the south side of Mont Lozère to reach Le Merlet.
- Le Merlet: B&Bs and guesthouse. Table d'hôte.
Le Merlet ---- Le Mas de la Barque (13.5 km):
Landscapes: pine and beech forest, heath land, prairies, river, abandoned villages.
Follow the transhumance trail to explore Mont Lozère, its vast plateaux with sweeping view points, dotted with granite stone hamlets. Excellent bathing spot at Pont du Tarn.
- Le Mas de la Barque: rooms and meals at the inn l'Auberge du Commandeur.
Le Mas de la Barque ---- Mas Nouveau (11 km):
After the beautiful Gourdouze valley with its herds of grazing cattle, explore Mas Nouveau on the eastern slopes of Mont Lozère just above Génolhac.
- Mas Nouveau: B&Bs and guesthouse formula. Table d'hôte. Sauna, jacuzzi.
Mas Nouveau ---- Castagnols (10 km):
Cross the Montclar pass opposite the wild Cévennes hills, drop down along the donkey trails formerly used for transporting ore from the silver mine at Vialas. Take a refreshing dip in the Luech before making your way back.
- Castagnols: guesthouse, B&B and table d'hôte. Campsite.
All inclusive price (from 2 adults):
-Adult: 641 € in guesthouse / 739 € in B&B
-Child under 10: 535 € in guesthouse / 629 € in B&B
-Free for children under 2
Included:
7 nights full pension, donkey hire (1 donkey for 3 people) with full equipment, preparation before departure, topographical guide, accomodation and food for the donkey, reservations, accomodation prepaid.
Programme:
Arrival in Castagnols on the day before the walk. At 5 pm: instructions on walking with a donkey and about the route chosen. Meal and overnight at Castagnols.
Departure in the morning, afternoon arrival at the target guesthouse.
Return to Castagnols around 5 pm the last day.
For overnight in Gentiâne guesthouse at return, see "Prices".