Gentiâne en Cévennes: donkey hire and accomodation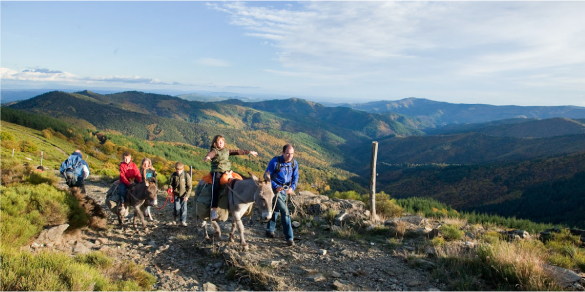 Gentiâne welcomes you to its pretty Cévennes hamlet from which you can explore the upper Cévennes hills: the peaks of Ventalon, Bougès and Mont Lozère, the sweeping depths of Vallée Longue and the Calberte region, following tracks formerly used by shepherds for transhumance, by postmen, by villagers when travelling to meetings or fairs and the Camisards when fighting Louis XIV's Black Dragon troops. Also, follow in the footsteps of the famous Scottish writer Robert Louis Stevenson and his donkey Modestine.
Accommodation is available at Castagnols in a self catering guest house or bed and breakfast. You may also choose to prepare your own evening meals or join our 'table d'hôte'. Campers may set up tent for the night in front of the donkey stable (free; no sanitary facilities).
We have 35 donkeys at your disposal for accompanying your trips into the inviting Cévennes countryside.