Background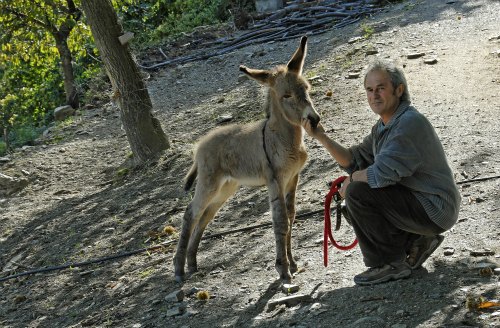 Gentiâne is a donkey hire structure established in 1984 by Christian Brochier, a pioneer in this form of itinerant tourism at the time, along with just 5 or 6 other structures.
2 donkeys at the beginning, walks mainly around the region of St. Martin de Lansuscle in the Vallée Française, the right promotion at the right time in the right place and 2 months of filming for a series produced by France 3 television about Stevenson in which Solène was the star... and Gentiâne found its public.
In 1989, Gentiâne and its 19 donkeys migrated to the Ventalon mountain on the commune of Vialas at the foot of Mont Lozère, known as 'the roof of the Cévennes'. A basic guest house was set up in an old Cévennes house in the hamlet of Castagnols because the walkers sometimes came from a long distance.
In 1994, the building was fully restored and extended to offer a more comfortable reception. Christian Brochier left his other activities of primary school teacher and special needs tutor. He initially called upon help from family and friends to help with the work in the peak season and soon took on his first employees.
In 2007 work began on a new stable for the donkeys to replace the old and ageing structure and to give the donkeys a sheltered area for eating, a clean saddling section, a barn for hay and barley with sufficient stock for the winter months and a public reception area which had previously simply been Christian's lounge.
In 2011 the stables reached the finishing phases with the barn and hiking equipment sections completed. The 'club-house' will also soon be ready.
In 2015, the reception has been opened in the club house, a little campground is in planning.
In 2017, Gentiâne has been converted into a limited company under simplified french law (SAS). The majority of shares is held by Susann Brägger Schumm and Michael Schumm, experienced swiss donkey owners. Michael Schumm, a confirmed manager, has been elected as president and CEO. In this form, Gentiâne is well prepared for the challenges of the future and continues to offer hikes with the long-eared companions for unforgettable vacations in the nature.
Christian Brochier remains in the company as consultant and hiking expert in this beautiful landscape of the Cévennes.
With some 60 donkeys and she-asses, from which over 40 are apt for work and a team of 6 to 8 colleagues during the walking season, Gentiâne welcomes over 1500 walkers every year, representing over 2000 walking days with a donkey in the Cevennes.